The truth finally slips out in a 35th Anniversary Mad Scientist display in Macau. Called Hello Kitty Evolution, we see the way that the evil feline spreads her paws to Kittify one place after another (click on image to enlarge):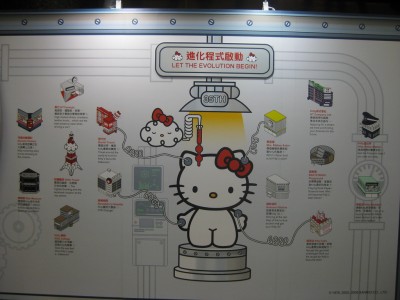 I find it to be most appropriate that there's a needle stuck inside Hello Kitty's head and the result of this is to produce a cloud with a bow on it (actually, I thought there was even less up there than water vapor, so I need to apologize and I stand corrected). Beyond that, however, things take a turn for the worse. Hello Kitty Evolution connects her to four main launching points: Strawberry Hospital, Daniel Travel, Mrs. Ribbon Salon and Kitty Cafe.
Of course, the evolution doesn't stop there and the future expansion doesn't look pretty. Hello Kitty has targeted Kitty College, Star Museum, Hello Tower, Kuromi Cinema, KT Formula, KT Company Ltd., Kitty Police Station, Badtz Maru Playground, Nekosen Station and Kitty Boutique. Welcome to the world that Hello Kitty envisions for all of you.
We then learn about Kitty's Experimental City (click on image to enlarge):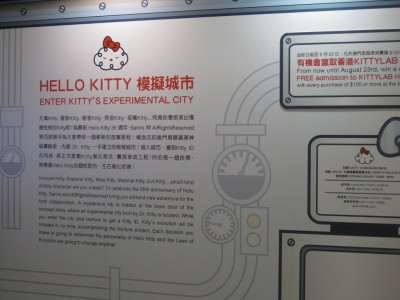 Sanrio actually lets it slip that there is such thing as an evil Hello Kitty and I'm pretty sure we all know that she is the one attribute that dominates the people at Sanrio. Kitty's Experimental City doesn't do anything to alleviate that concern:
Innocent Kitty, Explorer Kitty, Wise Kitty, Material Kitty, Evil Kitty… which kind of Kitty character will you create? To celebrate the 35th anniversary of Hello Kitty, Sanrio brings you a brand new adventure collaboration. A mysterious lab is hidden at the back door of the concept store where an experimental city built by Dr. Kitty is located. While you enter the city and venture to get a Kitty ID, Kitty's evolution will instantly initiate the Nurture project. Each decision you make is going to determine the personality of Hello Kitty and the Laws of Evolution are going to constantly change.
What they conveniently fail to mention is that no matter what evolutionary track takes place, the end result is always world domination by Hello Kitty and you under her watchful eye tagged with the Hello Kitty ID she conveniently microchipped you with. Maybe that Hello Kitty Hell paranoia I have isn't as far off base from reality as I sometimes imagined…
Sent in by helenkt who should have to submit to the new Hello Kitty world order and be "nurtured" by Hello Kitty for the rest of her life as punishment for sending these to me and confirming that my previous paranoia is actually the truth (at least with the paranoia, I had the hope I could be wrong…).