OK, I'm feeling a little less uneasy about the creepy stalker package for my wife that my parents received after the person that sent the package emailed me and said she wasn't trying to be stalker-like at all. Apparently she was simply getting ready to move and felt inspired to rid herself of much of her Hello Kitty collection due to this blog (of course, it would have been much more inspirational if she had decided to try and give it away to someone other than my wife, or better yet, set it all on fire and sent me the video).
All the stuff she sent is new and in its original packaging (which will be important to know for this next giveaway, and if for some reason it isn't important to you, that's kinda creepy in itself). Her explanation on how she found the address was pretty innocent and simple, although I will refrain from explaining it here since I'd rather not have the whole Hello Kitty package thing for my wife happen again.
Included in the package was a black Hello Kitty shoulder massager: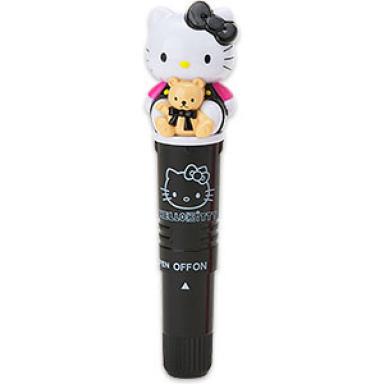 (yes, I realise that is not how most people refer to it as, but since I really don't feel like having to explain the alternative use to my parents, humor me and let's just stick with what Sanrio claims it was produced to be used for). What I absolutely do know is that if I have to sleep on the couch in the Hello Kitty sleeping bag, Hello Kitty should not be taking over my duties (the entire set of rainbow color ones my wife currently has are for her collection and therefore aren't used — and while I don't think she would turn to the evil feline when I've been out-casted to the couch in the Hello Kitty sleeping bag, there is no reason to take any chances), so this needs to be given away asap.
If you are interested in the black shoulder massager, simply become a friend of Hello Kitty Hell on facebook and leave a comment on the "free Hello Kitty shoulder massager" post on the wall there. One entry per person, so please don't leave multiple comments.
I will have a random number generated for the comments left on the facebook post. The person's comment that matches the number will receive the Hello Kitty shoulder massager, which will be sent out by my parents. While I hope that it goes to someone that dislikes the evil feline and that person takes the time to record its demise, the number one priority is that it does not end up in my wife's collection. Just to make things clear, if you decide not to destroy it, I have absolutely no interest hearing about any uses you find for it.
The contest starts now and will end at 11:59 pm eastern (10:59 pm central, 9:59 pm mountain and 8:59 pm pacific) on Friday November 6th. Open to anyone living anywhere in the world except at my address in Japan.
The contest is now officially over there were 241 entries in the contest:
The random number resulted with Rebecca being the winner. No matter what she decides to do with it, I'm just happy it won't be added to my wife's collection…