Seriously, there is absolutely nothing that the Hello Kitty won't try and stick her claws into. Apparently Japanese haiku poetry, through its long and illustrious history, was still missing something vitally important — the evil feline's commercialization. She promptly resolved this oversight with a haiku poetry book titled Hello Kitty Through The Seasons: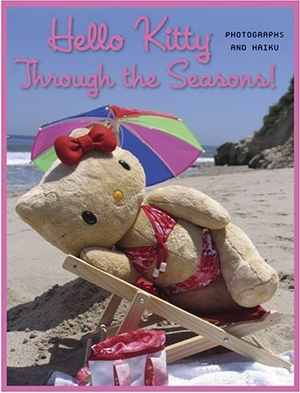 You would think — being the normal, sane person that you are — that a single Hello Kitty haiku book would prove that there are just some things that Hello Kitty fanatics wouldn't buy, but then you would be vastly underestimating the evil feline again. That's because the first book was so successful that they came out with another Hello Kitty haiku book titled Hello Kitty Everywhere
With gems like the following inside, it's amazing that the first book didn't send the Hello Kitty fanatic masses to a sugary, diabetic death:
Storm of white sugar –

a wintery confection,

I sit happily
Of course, my wife loves it and is dutifully taking the steps necessary to add these two books to her collection. I, on the other hand, sit here thinking of how the above Hello Kitty haiku would go in real life:
Storm of white sugar –

Pepto Bismol pink frosting

Everyone vomits
These two books are making me seriously reconsider my thoughts on book burning…
Sent in by Alison (via haiku by two) who should have to include Hello Kitty in every one of the haiku she writes in the future as punishment for every thinking that bringing these to my wife's attention could be a good thing.