I have a simple policy of not telling Hello Kitty fanatics where they can get the stuff on this blog. That doesn't stop those that worship the evil feline from complaining and whining. When they realize that their tantrums have little effect on me, they move onto the next stage of trying to bribe me for the information. One Hello Kitty fanatic was so desperate that she offered to send me naked photos of herself for information on where to get stuff (yeah, like that would go over well with my wife…). The latest of these attempts was this costume — with the claim that this is the best Hello Kitty costume ever: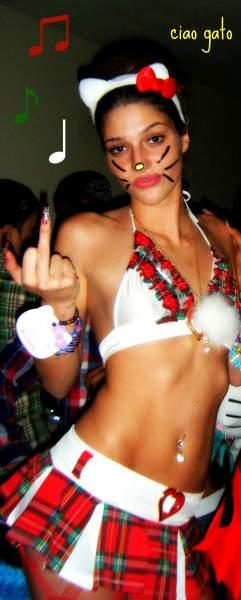 Once she sent the photo and made the "best Hello Kitty costume ever" claim, she sent another email:
now if you agree; you HAVE 2 tell mi where yu got the hat and mittens from ; so i can wear em @ mi nxt even whn its friggin cold 🙂 — breeze
The first and most obvious problem here is that it's impossible to ascertain what the hell she is even trying to say, but that seems to be the signature of many Hello Kitty fans. The second problem is that Hello Kitty fans seem to believe that they can somehow convert me to liking Hello Kitty by trying to make her sexy. This ends up having the exact opposite effect of producing nothing short of nightmare after nightmare. It also doesn't help to have Hello Kitty directly showing me what she does to me on a daily basis in Hello Kitty Hell.
Given that I live in Hello Kitty Hell, I am obviously more than a bit biased when it comes to judging Hello Kitty costumes. Maybe having viewed life for far too long through Pepto Bismol pink colored sunglasses has made me even more jaded than even I assume I am.
So you be the judge. Is this the best Hello Kitty costume ever and does she deserve to get information that I clearly say that I will not provide?