If there is anything that you learn in Hello Kitty Hell, it's that the evil feline loves her drug culture. Between Hello Kitty bongs and Hello Kitty cocaine, you knew that at some point someone would think that something like Hello Kitty sporting 6 tabs of LSD on her tongue tattoo would somehow be a good idea: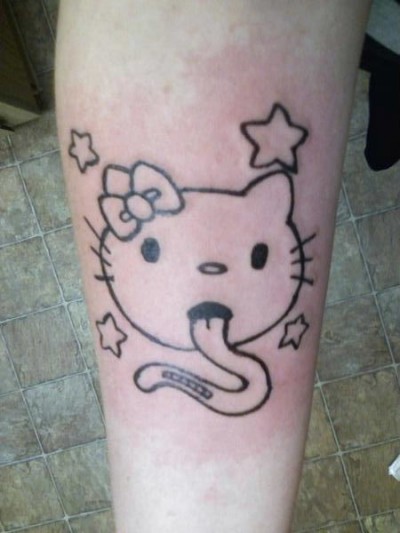 As I've said on numerous occasions, the fact that there are so many Hello Kitty tattoos out there is a pretty good sign that there are some serious problems with the human race.
There really aren't that many things in Hello Kitty Hell that scare me more than some of the Hello Kitty tattoos I've seen. The thought of Hello Kitty on LSD is one of them, right up there with living in Hello Kitty Hell on LSD. Either way, those two things should never be mixed if continued sanity is something that you want in your life (and that isn't even touching on her having a mouth and tongue).
Sent in by Hello Kizee who deserves the worst punishment possible for ever thinking that sending this to me could be a good idea, but having a friend named Pinky that actually has this tattoo is far worse punishment which trumps whatever I could think of by many degrees of magnitude…