It is not often that my wife will give away things in her Hello Kitty collection, but she always has a soft heart when it comes to good causes. When we were in Japan, we used to give toys to a local orphanage. Now that we are back in the US, we needed to come up with a new project. We have set a very ambitious goal to provide a lot of food to food banks, and although we have just started, we are making a difference.
I recently heard about contest to blog about the Vancouver Winter Olympics, and while the odds of being picked to do so are long, I have decided to at least try and win. While it would certainly be cool to attend the Winter Olympics, an added benefit is that I would be in contact with a lot of Olympic athletes who I could let know about Penny Experiment and possibly help out with it. Even better, I would get to escape Hello Kitty Hell for a couple of weeks.
When I asked my wife is she would be willing to give up anything, we ran into a slight problem. The vast majority of my wife's collection is in storage in Japan and she only brought with her essential (in her view) evil feline items. After some thought, she picked out a number of items that I will be giving away over the next 10 days or so.
Of course, in order for my wife to give up anything, I also had to make a deal with the devil. If I do end up going, I'm required to buy any Hello Kitty items that I come across (I can't escape Hello Kitty Hell even when I will be on my own). While both terrifying and nausea inducing, I agreed to the deal for the positive benefits in furthering a good cause.
This contest is for a Hello Kitty 3-D ice cube tray: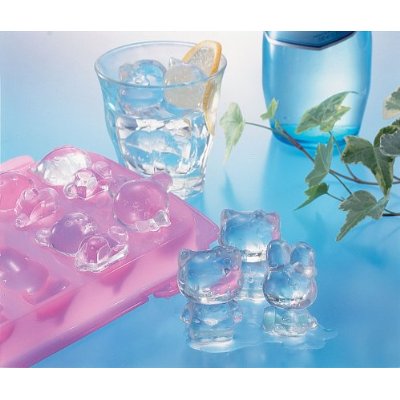 The Olympic contest is to help support and spread the word about lesser known athletes participating in the Olympics games. I decided to participate by helping get the word out to people by creating Facebook fan pages.
Entering this contest is easy — simply become a Facebook fan of Clyde Getty, a 48 year old that will be attempting 2 triple flips in freestyle skiing (worth watching some of his videos – they are amazing).
After becoming a fan, leave a comment letting me know that you have and that will be your entry. I will have a random number generated for the comments that qualify left below. The person's comment that matches the number will receive the Hello Kitty ice cube tray.
The contest starts now and will end at 11:59 pm eastern (10:59 pm central, 9:59 pm mountain and 8:59 pm pacific) on Thursday January 21st. Open to anyone living anywhere in the world.
UPDATE: There were 137 entries in the contest and the randomly generated number was 10. A big congratulations goes out to Carol Browne for being the winner: