Living in Hello Kitty Hell ensures that there are plenty of mentally traumatic experiences that have to be survived on a regular basis. That being said, some of these are much more traumatic than others. The existence of Hello Kitty low rise underwear for men was one such instance and became even more traumatic when a variety of themed Hello Kitty underwear showed up at our door.
Now most people would see the above as proof that the evil feline had finally reached her limits. Of course, they would be wrong. Hello Kitty is always able to make something that one would assume could never get worse, oh so much more so. The Hello Kitty men's skimpy briefs are further proof of this: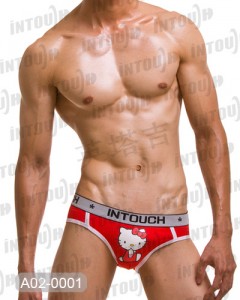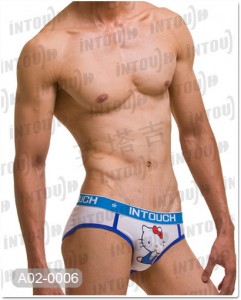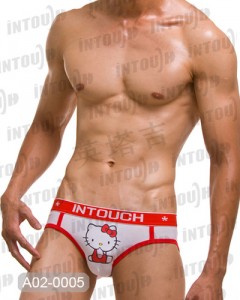 According to their product description, these Hello Kitty men's briefs are the following (their wording):
Low rise men's briefs underwear. So sexy, so lovely, so cute! Make you so Shining!
I don't even want to think what will happen when my wife sees that these are available because it will surely mean moving to further depths of Hello Kitty Hell…
Left in the comments by Clint Catalyst who should be forced to wear these every day for the rest of his life as punishment for ever thinking that letting me know about these could possibly result in anything positive…