Further proof that the evil feline can be found on absolutely anything that is being sold: Hello Kitty motor oil: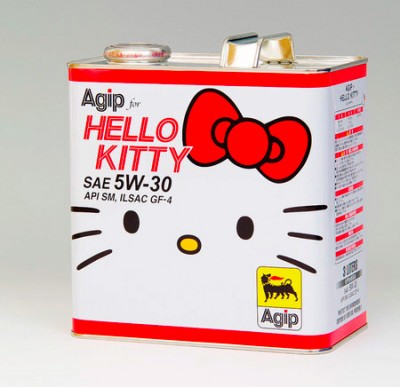 Why do I get the distinct feeling that this was inspired by the recent BP oil disaster?
Sanrio Employee 1: Did you see that oil disaster in the Gulf of Mexico?
Sanrio Employee 2: Yes, it's a shame that something so trivial is getting so much publicity instead of Hello Kitty.
Sanrio Employee 1: Is there anything we can do about it?
Sanrio Employee 2: Hey, I have a great idea. Why don't we create Hello Kitty motor oil so that Hello Kitty isn't overshadowed by BP?
Sanrio Employee 1: Wow, what a great idea!
Because, seriously, what self respecting Hello Kitty fanatic would be willing to put regular old motor oil into the engine of their Hello Kitty vehicle?
Sent in first by dean (and far too many others via engadget) who probably is doing what any self respecting Hello Kitty fanatic would do — spreading the Hello Kitty oily love all over wildlife to emulate BP in an attempt to get more publicity for Hello Kitty — because only someone with a thought process like that would ever think that sending this to me would be a good idea…