I've started to get quite a bit of random email recently, so I've decided to start a new theme called "Sunday Mail" where I will be posting what I receive during the week for all your reading pleasure:
I love HK (but most of her stuff is ridiculous!!!) and I'm sorry what your wife is putting you through. You're a strong man! Anyway, I work at a store called Altex where the registers are fully functioning computers. Everyday I come into work I check your website to see what's new in HKH. It has now become a "tradition" of sorts for the guys I work with (I'm the only female amongst 10 men) to follow me to my register to "see what's going on in Hell today." And if they don't catch me when I first walk in, they stand next to my register until I pull up your website for them so see. I know if they knew I was e-mailing you they'd scream, but we totally love your website!!! -the Altex Crew
Hmmmmm, this is quite disturbing and simply confirms that no matter how much people want to look away from a car wreck as they pass by, it's impossible to do…
Hello mr. Hello kitty hell! I was just wondering…Do you own any hk items? Not your household items, but I mean YOU bought it.. xD Hello kitty computer mouse, hello kitty strawberrys or even a plushie.. I'm sure all of your readers & such would like to know! – Raine
Why in Hello Kitty Hell would I ever buy crap of the evil feline for myself? Have you even read any of the posts in this blog???
HI! I sent you an e-mail (twice) from my work e-mail 😛 I usualy send you stuff from this one… anyway, I'm Absinth on your blog. If anything that we sent you are worthy of being mentioned my friend will be astonished… she believes that you will never pay attention to our e-mail… I know Paula is wrong! Wishing the best far away from the HK sleeping bag – Absinth
mentioned…be astonished
First off, I would like to state, that I do not care much for hello kitty, and I absolutely LOVE your blog, it's hilarious. Anyways, I started to ponder something recently. You hate Hello Kitty, specifically the products of the feline, however, through your hate, haven't you become an accessory to her fiendish world-take over? Because of Hello Kitty, there is now a comedy themed anti-hello kitty news site that regularly reports on the products of hello kitty "Hello Kitty Hell" So, in a way, you're an accessory of Hello Kitty, and an object of your hate, and pain. – Jesse
Great, like I really needed another reason to kill myself….
Hi, long time reader of your blog, I too have been living in a Hello Kitty Hell, but my girlfriend has taken things a little too far. I should of known from the beginning that dating a Hello Kitty fanatic would be different, but not consuming every single part of my life. I too have been though all the clothing, the bracelets, rings, wallpaper and just about anything else that you could imagine. Also, saying anything about Hello Kitty is almost always grounds for some sort of punishment, ranging from the traditional kicked out bed for the night, to the i-am-not-talking-to-you-for-a-week. The other day I had gotten into a disagreement about putting Hello Kitty bedding down on our bed and for some strange reason, she didn't get mad, only brushed me off and didn't talk to me for the rest of the night. However today after I got home from work, I had found the sheer hearted revenge that could only come from a Hello Kitty fanatic. I went to use my new laptop that I often use for work and lo and behold there she was for all her glory, Hello Kitty, super glued onto my computer. I can only say this will be the last major argument we ever have….because now I have to figure out how to get Kitty off my machine…..I'm glad to see that more people are put to suffer at the ever changing hands of Hello Kitty than myself. Thought I might share. – Logan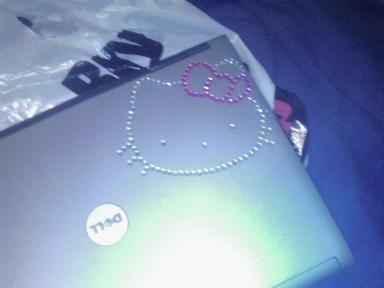 Welcome to the club – it only get worse…
hello i just read all the posts under the hello kitty tattoo tag, and i think mine should be on it as well 😛 mine appeared on bmezine mod blog but people thought i was trying to slander hello kitty and IT'S NOT TRUE i am a 100% hello kitty lover and the vagina face and dickhead came from a traditional japanese book! i love vagina, penis and hello kitty. so put them together and there you go! they are on my inner arms. =D love your blog! – Cici
As hard as it may be to believe, there are some Hello Kitty photos that are even too disturbing for me to post here…