I have long learned that it is never a good idea to open my email in the morning if I have been drinking the night before. Seeing Hello Kitty emails is bad enough, but viewing Hello Kitty emails with a hangover is just about the worst way to wake up in the morning. Lately, however, just opening the emails with the evil feline inside seems to bring on the same feeling as the worst hangover could. I know for sure that it's never good to get up in the morning and open up your email to find a Pepto Bismol colored monstrocity like this facing you — the Hello Kitty Polski Fiat: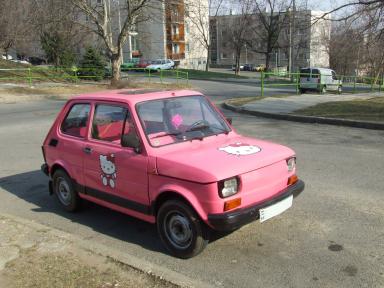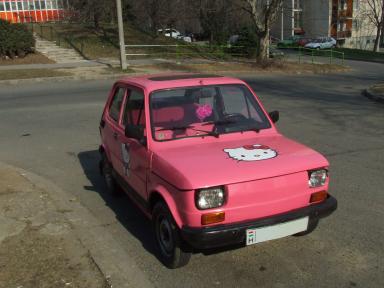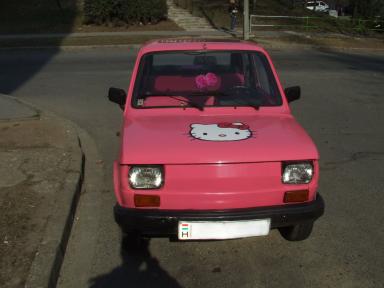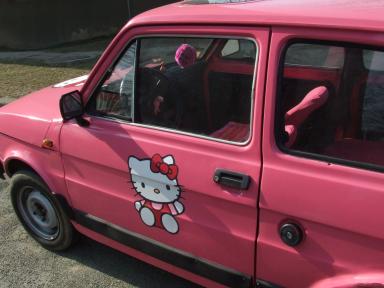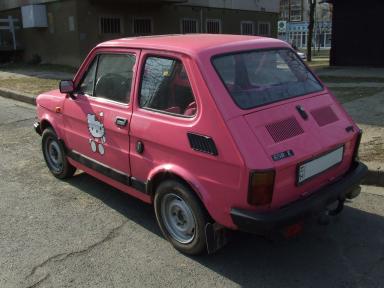 Here is the difference between a normal person and a Hello Kitty fanatic. While my head is spinning and I feel an intense headache coming on, the only thing I'm thinking is, "Why in the world would anyone want to ride around in something like that?" At the same moment, my wife is cheery as the sun with a huge smile on her face saying, "That is sooooo cute. Don't you think we should get something like that?" Of course, all this leads me to believe I should have gotten extremely drunk last night if I'm going to have to spend the day feeling like I have an hangover anyway…
The only good thing I can say about this is that the quality seems to give a good representation of how most Hello Kitty goods are made. Apparently in the past cars under licence of the Italian car maker FIAT were manufactured or assembled in Poland. I'm told that these cars are referred to as the Polski Fiat (literally in English: the Polish Fiat) which was considered a Polish car brand.
Sent in by Yocoo who took the photos in Miskolc, Hungary which in itself brings up some disturbing trends: 1) People are actually taking photos for the sole purpose of sending them to me and 2) People all over the world are now sending me random Hello Kitty photos. Of course, both of these in addition to even thinking that it would be a good idea to send me something like this means that she should have to drive around in a car like this for the rest of her life or something similarly as torturous…