HKH Editor note: All I can say is be very careful what you wish for when it comes to Hello Kitty Hell because things will always turn out much worse than you could ever imagine…enjoy the next two weeks
By darlene
Hello Kitty is a fashion icon that everyone loves and cherishes. True men embrace her because they have no fear of their masculinity. It's is only men that have issues with their manhood that don't like Hello Kitty and feel it necessary to say bad things about her. That is why Hello Kitty has started a men's line of clothing which will be a huge success. This man is a true man and shows his fashion sense with a Hello Kitty snow cap: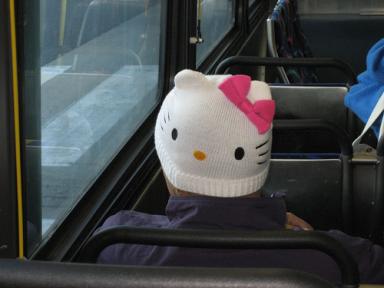 Look at how cute this is and how happy it will make every person that sees it. The world would be a better place if all men would be willing to wear Hello Kitty snow hats. Men that have to complain about Hello Kitty and refuse to see how cute and adorable she is are sad examples of what is wrong with this world. They can never give the support that women need and will prove that they are selfish and only care about themselves.
If you want to find a good man in this world, give them Hello Kitty to wear. If they do so happily and want you to buy more for them, you have found a true man and one that every woman will be envious of. If they show any hesitation or embarrassment, you know that they have huge issues and can't be the type of man that every woman needs, so break it off right away.
Everyone knows that real Hello Kitty Hell is not having Hello Kitty in your life.