There are some things that arrive in my mailbox that are so out of bounds that I assume that it is a single crazy Hello Kitty fanatic that would do something like that. Take for example, Hello Kitty scarification. While the fact that anyone would do that in the first place is beyond comprehension, being the normal person I am, I assumed it was a one time aberration in the seam of the fabric of life since there was no way that more than one person would ever want to do something like that to herself.
Of course, I once again have greatly underestimated the fanaticism of those that worship Hello Kitty and once again had to jump back in horror when this arrived in my mailbox: Another Hello Kitty scar: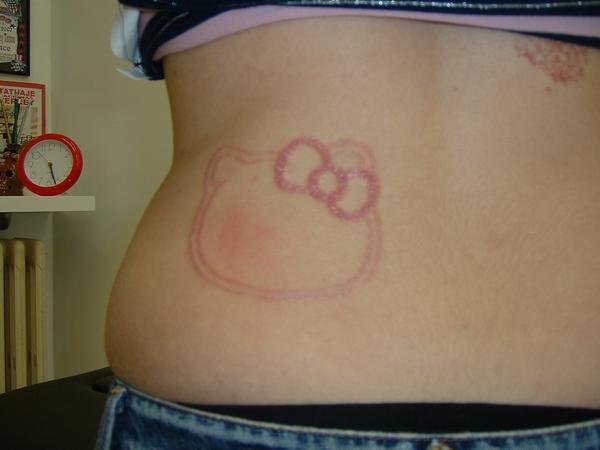 It may just be me, but "wow, isn't Hello Kitty cute? I think I'll go and slice her into my skin so I can have a scar of her on my body for the rest of my life" isn't how a normal person thinks, let alone acts. When you think that it's a positive thing to endure pain to show your devotion to a fictional cartoon cat, that is when you know that the evil feline truly has you in her clutches.
Of course, just because I, as someone who – what shall we say – is sane, doesn't mean that this doesn't worry me. My wife thinks that it's "cute and shows true devotion to Hello Kitty." These are words which seriously concern me because I could see it in her eyes when she said them that there were thoughts running through her mind on how she can get me to show more of this "devotion." I'll now have worry every night I go out with the guys that this is what my wife will give me as a "gift" when I come back and pass out drunk on the Hello Kitty futon — something that can never be ruled out when you live in Hello Kitty Hell…
Sent in by Aly who may have done herself more punishment in having this placed on her body than I could ever wish against her for thinking it would be a good idea to send me this photo…
Update: Because even more people thought this would be a good idea…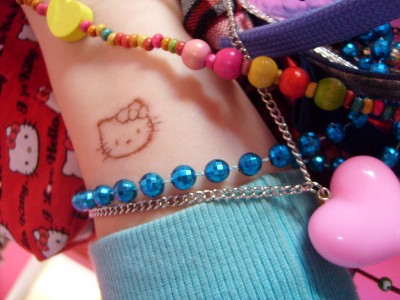 Sent in by wildone