Once again Hello Kitty shows that there are no boundaries when it comes to combinations of herself and other things no matter how wrong the combination may seem to the rest of us. This can be seen vividly in things like the Hello Kitty Jesus tattoo, the Hello Kitty Darth Vader tattoo and this Hello Kitty ninja tattoo: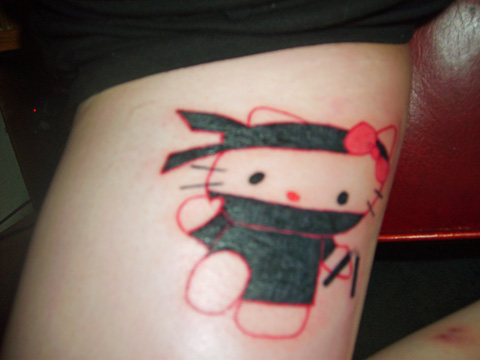 You would think that Hello Kitty, upon adopting the garb of a ninja, would do justice to ninjas everywhere and simply disappear, but alas that is way too much to hope when the evil feline is involved. Instead, another possible tattoo pattern is added to my wife's wish list which I have to fear I will end up unexpectedly finding at some romantic moment. This will not only ruin the entire mood, it will likely end up putting me on the couch in the Hello Kitty sleeping bag due the terrified look on my face instead of the love and adoration which my wife would assume I would greet the new ink with (don't ask why she would assume this — if you have to then you don't understand Hello kitty fanatics — suffice to say that Hello Kitty fanatics expect everyone to react this way every single time they see something Hello Kitty because this is the only way that they know how to react…) And that certainly sums up quite nicely what's it's like to live in hello Kitty Hell…
Sent in by shelley who deserves to have a whole lot of Hello Kitty ninjas visit her while she is sleeping and wreak deadly havoc as punishment for thinking sending this photo to me could ever be a good idea in any way, shape or form…
Update: Did you really think that Hello Kitty could ever do something and not have a pink version?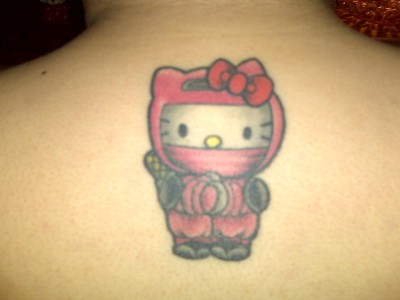 Sent in by Nikki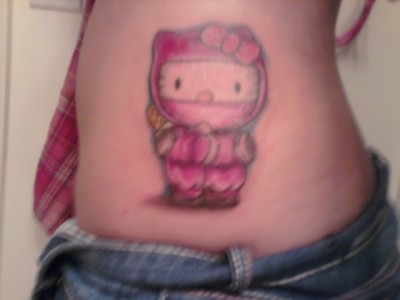 Sent in by raquel