This is why I hate living in Hello Kitty Hell. Any normal person would assume that an anatomically correct Hello kitty skeleton wouldn't exist. Being in Hello kitty Hell, I unfortunately have to learn that such a Hello Kitty anatomically correct tattoo does exist. Even the most jaded person would assume that this insanity would end there, but that would not be giving due credit to the true nature of Hello Kitty fanatics. What would make a Hello Kitty skeleton tattoo even more Hello Kitty like? Well, a Hello Kitty skeleton tattoo with bow of course: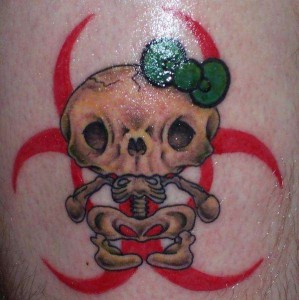 I'm thinking that maybe I should just stop opening my email…
Sent in by emily (via work done by Ace Chandler) who should both be punished by having to wear this tattoo thinking it could ever be a good idea to send it to me or create it in the first place.