While I would much rather not have anything Hello Kitty end up in my email, that is an impossibility when you live in Hello Kitty Hell. Part of the daily torture is waking up each day to see Hello Kitty in all her evilness sent in by too many people with far too much extra time on their hands.
That being said, not all Hello Kitty emails are equal. If I had to choose the Hello Kitty crap sent to me (and let's face it, if Hello Kitty is on it, is should be considered crap), I would much prefer emails such as the Hello Kitty suicide art series: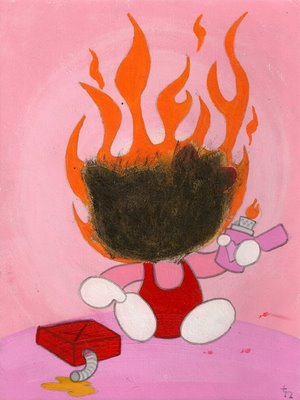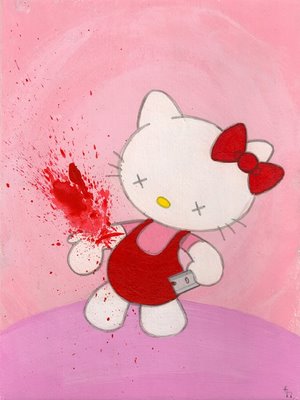 I mean, if I have to look at the evil feline, seeing her burn herself to death or cutting her wrist is a much more pleasant experience than having to watch her mock me with her sugary sweetness and reading in detail how some Hello Kitty fanatic is totally in love with her.
Of course, my wife doesn't quite see eye to eye with me on this artistic interpretation. It's still far beyond her comprehension that anyone would ever want to do any harm to Hello Kitty (a sure sign that you are living with a Hello Kitty fanatic) which forces one to exhibit a huge amount of Hello Kitty restraint.
One of the worst parts of living in Hello Kitty Hell is having to realistically show sympathy and sorrow to the Hello Kitty fanatic when something like this is shown to her while secretly grinning from ear to ear inside. Either that or showing your true feelings as you succumb to the fact that you will be spending the rest of the week on the couch in the Hello Kitty sleeping bag…
Sent in by Thom Foolery who really should have to only do Hello Kitty art for the rest of his life for thinking that letting me know about this art project could ever result in something good…