It is amazing that week after week, when I somehow imagine that the worst of Hello Kitty has already found its way into our house and that things can not get worse (I know, I should know by now that it can always get worse, but all I have is hope…), it gets worse…much, much worse. There isn't much that sends shivers down my spine these days, but this pretty much brings to the forefront the worst of my Hello Kitty Hell nightmares – a Hello Kitty tuxedo: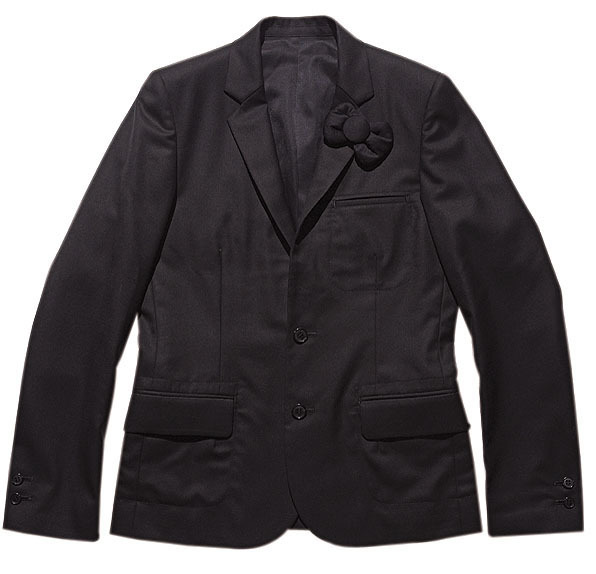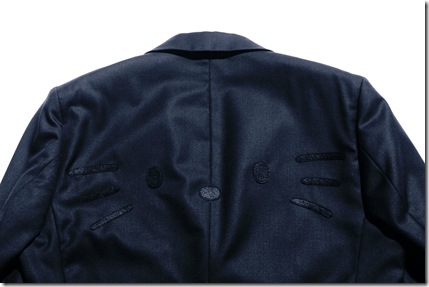 Yes, that is a Hello Kitty bow in the front. Yes, the bow tie is a Hello Kitty bow. Yes, that is Hello Kitty's face blended into the back of the jacket. Yes, I did run to the bathroom and relieve my stomach of its contents upon seeing this…
Since my wife wasn't a Hello Kitty fanatic when we got married, the one thing that she feels she has been denied is a Hello Kitty wedding which pretty much wraps all my Hello Kitty fears together into one terrifying event.
My wife now has the Hello Kitty wedding at the forefront of her mind since seeing this and is insisting that this is what I must wear. I think it's time to begin looking for that Hello Kitty seppuku set (you know one exists out there somewhere and if anyone deserves it, it most certainly is me) so I can put myself out of my misery in a much less painful way than having to actually endure something like this.
Sent in (via think silly) by 15 different readers (many who seemed to derive way too much joy out of the prediction that I might one day have to wear something like this — you all really have way too much time on your hands) who should all have to join me in the Hello Kitty seppuku ritual for ensuring I will have to listen about Hello Kitty weddings for the next month and thinking that anything positive could ever come from sending something like this to me…