You knew that it would eventually have to happen. Having already Hello Kittified virtually every real gadget out there, the evil feline has decided that it's necessary to take the next logical step in her plot to take over the world — invent random gadgets that make no sense at all, but which she knows thousands of loyal Hello Kitty fans will buy because it has been Hello Kitty branded. There is no other explanation that can be rendered for the Hello Kitty skin analyser: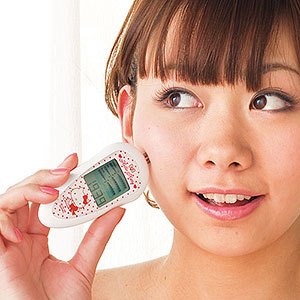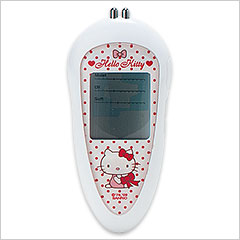 So what does this gadget do? Who the hell knows…apparently by pressing it against your face, it is able to directly measure the state of your skin by analyzing your skin's moisture content, oil content and sun damage. Since this would seem incredibly ridiculous to even someone in an insane asylum, my bet is that it really sends beams of Hello Kitties under your skin to infect you with a Hello Kitty virus that Sanrio has developed to get you to buy more Hello Kitty junk. That, or send huge amounts of electricity into the brain to fry it to the point that you actually think that Hello Kitty is cute.
Even the employees at Sanrio believe they may have taken all this Hello Kitty crap a step too far. Realizing that this gadget doesn't make any sense at all, it appears that at least one employee had a twinge of conscience and added a clock to it (they call the gadget a "Hello Kitty beauty clock"), so that it actually has one function which makes sense to anyone who isn't a Hello Kitty fanatic.
Of course, none of this makes any difference to my wife. It's a cute Hello Kitty gadget which she can add to her collection for a mere $25, use and pretend that somehow Hello Kitty understands how her skin is doing on a daily basis. Or in other words, she has ensured that Hello Kitty Hell continues to get worse on a daily basis…